HOME




PAST EVENTS:

You can watch Mother Earth meets Mother Jones HERE

Historically, the United States Environmental Justice movement has excluded BIPOC people while Environmental Racism has remained pervasive. Over the last several decades the dynamics have shifted considerably and that shift is accelerating. In this session of the Healing Pieces Symposium, we slow down and talk to three different humans – all artists and educators – to look at Dallas' history and present at it relates to these issues, while we hear from a rural contemporary case study focused on intersectionality and the transformation of place – Utica, Mississippi and the Mississippi Center for Cultural Production (SIPP Culture).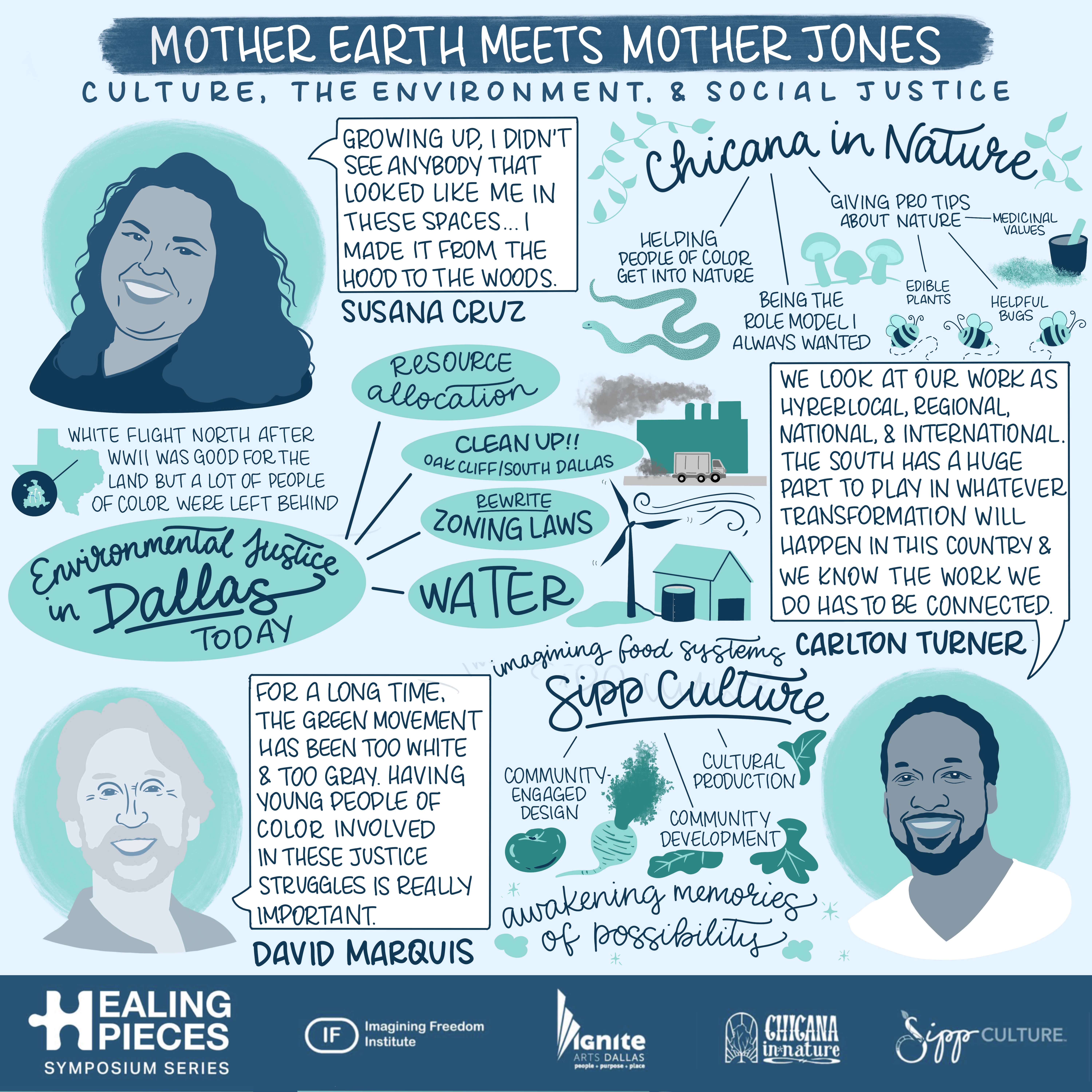 You can watch A Tree Grows in Dallas HERE

A Tree Grows in Dallas is a conversation that looks at green space and place-making in Dallas. From South Oak Cliff to downtown Dallas, parks and plans are everywhere. Who crafts the story of change and transformation? This conversation, led by high school and college students, will explore narrative and place-making in Dallas and beyond.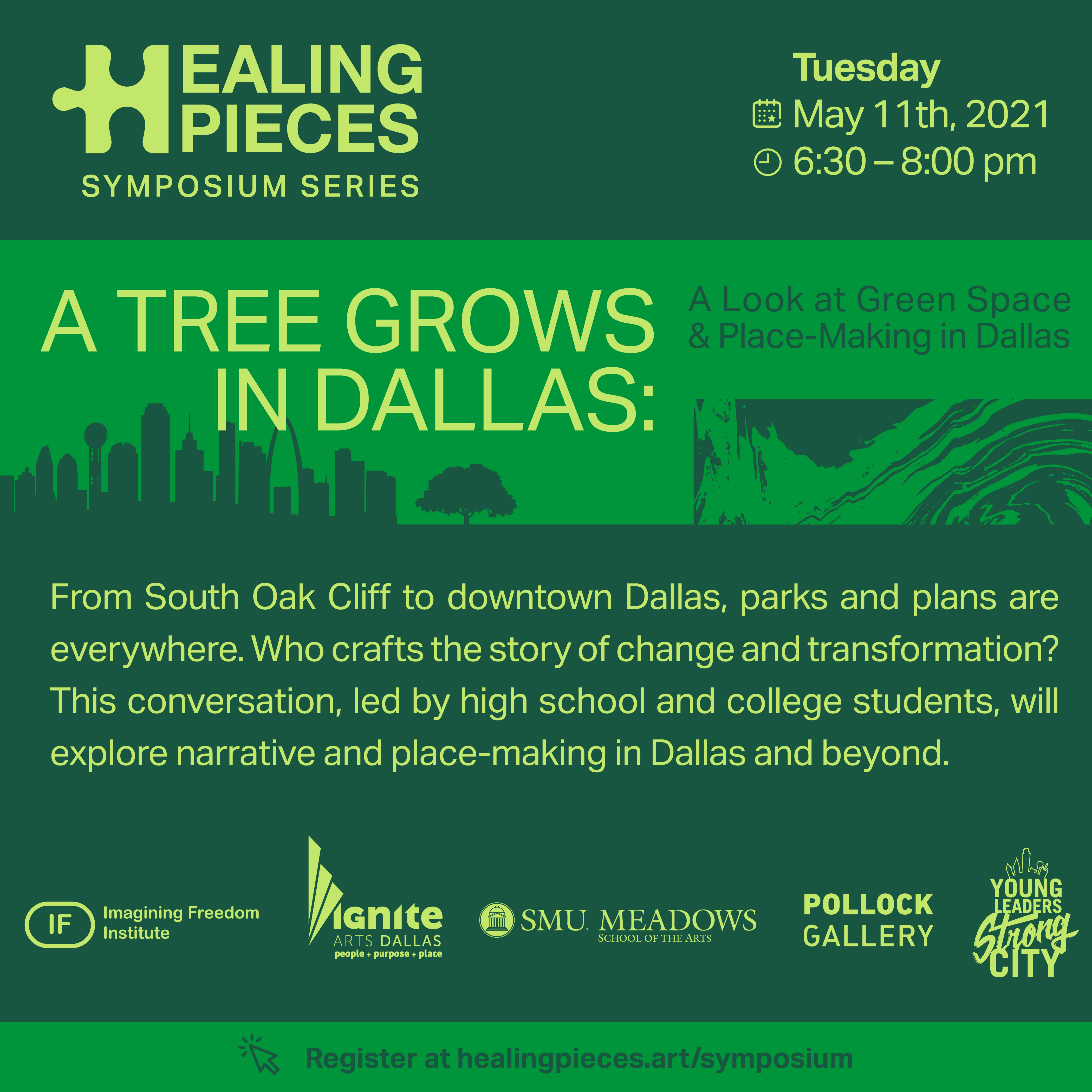 You can watch Work Life & Life's Work here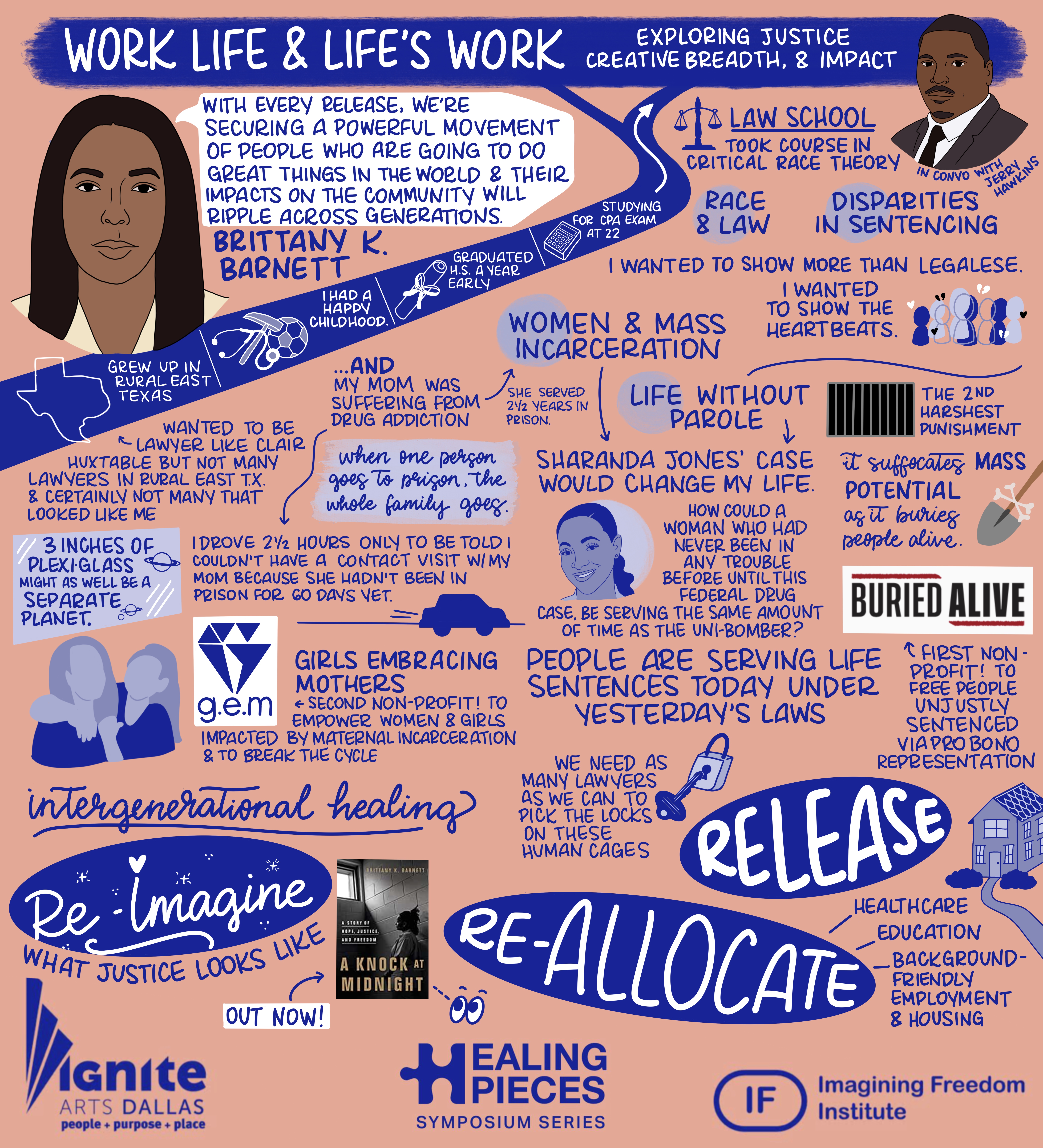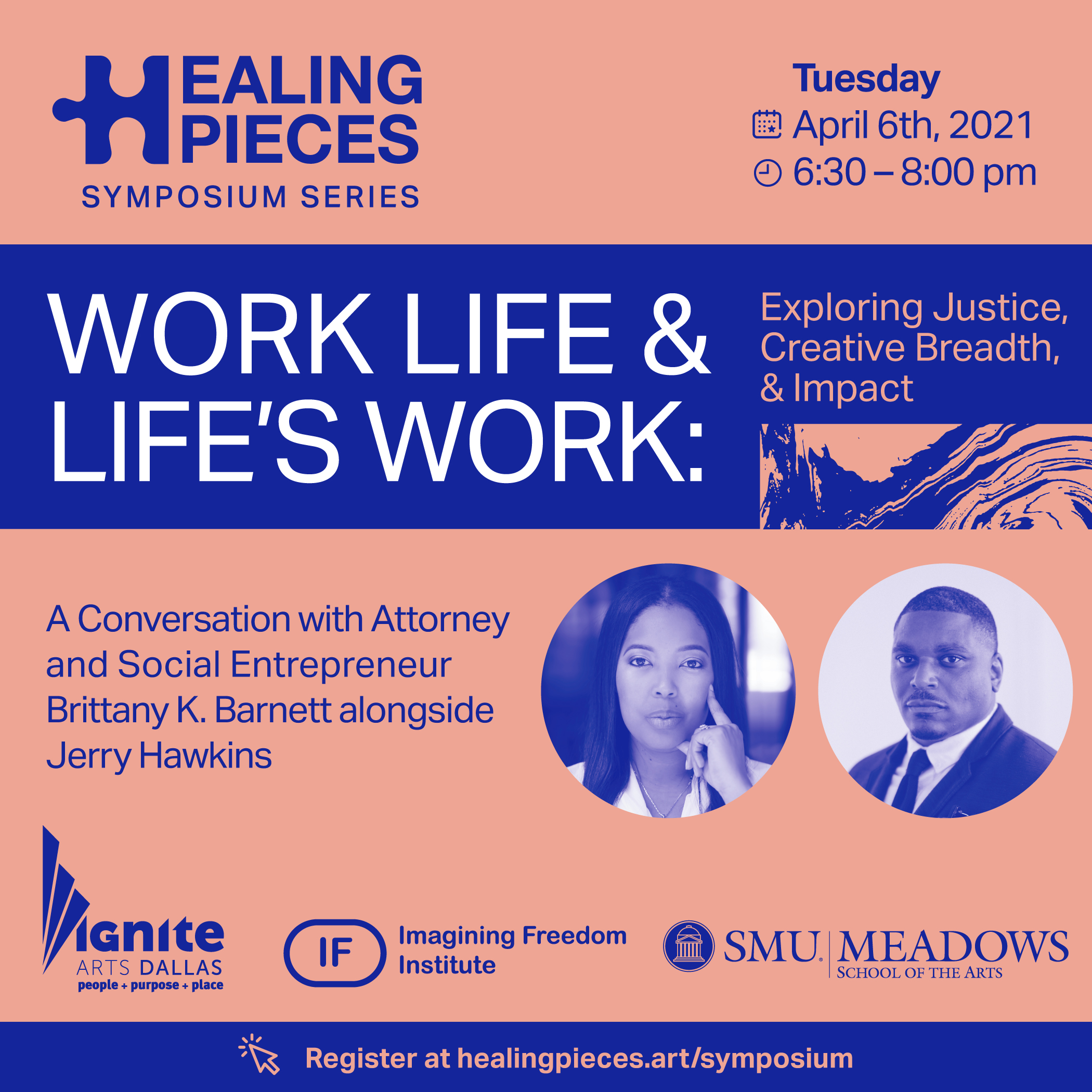 A virtual conversation with Brittany K. Barnett, attorney and social entrepreneur, and Jerry Hawkins, executive director of Dallas Truth, Racial Healing and Transformation. Barnett, a graduate of SMU's Dedman School of Law, was named one of America's most Outstanding Young Lawyers by the American Bar Association. She is also the daughter of a formerly incarcerated mother, and knows firsthand that the impact of mass incarceration is far reaching, devastating families and entire communities. Weaving together her clemency work, social entrepreneurism and life experiences, Barnett will share the stories of those she has helped to win freedom, including clients granted executive clemency by presidents Barack Obama and Donald Trump. The symposium series, which will continue through 2021, is part of Healing Pieces: Offerings of Art, Expression and Nature, a collaborative multi-year arts and engagement initiative led by Ignite/Arts Dallas with myriad partner organizations and individuals. Healing Pieces examines how architecture, green space, urban planning and community development can lead to transformation of the city. It seeks to illustrate how Dallas and its communities can enter conversations that encourage understanding and stimulate meaningful change across race, culture, geography, criminal and environmental justice reform and urbanism.

About:

Brittany K. Barnett is an award-winning attorney and entrepreneur focused on social impact investing. She is dedicated to transforming the criminal justice system and has won freedom for numerous people serving fundamental death sentences for federal drug offenses – including seven clients who received executive clemency from President Barack Obama. Brittany is founder of several nonprofits and social enterprises, including the Buried Alive Project, Girls Embracing Mothers, XVI Capital Partners, and Milena Reign LLC. She has earned many honors, including being named one of America's most Outstanding Young Lawyers by the American Bar Association. Brittany is also the author of A Knock at Midnight: A Story of Hope, Justice, and Freedom, a memoir detailing how her journey transformed her understanding of injustice in the courts, of genius languishing behind bars, and the very definition of freedom itself. A Knock at Midnight was chosen by Amazon Editors' as the #1 book of 2020.


Jerry Hawkins is the Executive Director of Dallas Truth, Racial Healing & Transformation (DTRHT), part of a national 14-place initiative by The W.K. Kellogg Foundation. Dallas TRHT's mission is to create a radically inclusive city by addressing race and racism through narrative change, relationship building, and equitable policies and practices. Jerry is also a co-founder of The Imagining Freedom Institute (The IF Institute), a national research-based leadership group that helps organizations and institutions understand the historical context to contemporary issues of place, race and racism, and co-principle of Young Leaders Strong City, a program for high school students that creates teen equity summits and councils to explore their experiences and identities. Jerry was formerly the Project Director of Bachman Lake Together for The Dallas Foundation and Zero To Five Funders Collaborative, an early childhood collective impact initiative in Dallas, and Director of Children's Services at the Wilkinson Center in East Dallas/Southeast Dallas.

Jerry is a current 2020-21 Presidential Leadership Scholar, a recent Leadership Arts Institute Fellow with the Business Council for the Arts, a Dallas County Historical Commission Member, and sits on Dallas ISD's Trustee-appointed Racial Equity Advisory Council and The Education Trust/ERS Resource Equity Working Group for Dallas ISD, and the United Way of Metropolitan Dallas/PolicyLink/National Fund for Workforce Solutions 'Pathways to Work' Workforce Equity Advisory Council. Jerry also serves on the boards of Leadership ISD, Deep Vellum Books, AccessH2O and Teaching Trust. Jerry has been awarded KERA/PBS's American Graduate Champion in 2017, an Outstanding Child Advocate at CHILDREN AT RISK's Texas Academy Awards of Child Advocacy in 2020, and was selected as one of the "Dallas 500 Most Powerful Business Leaders in North Texas" in 2021 by D CEO/D Magazine. Jerry's first editorial offering, A People's History of Dallas, will be published in early 2022 by Deep Vellum Books. While living in Chicago, Jerry worked for Chicago Urban League and Chicago Public Schools. Jerry and his three children, aged 19, 17 and 12, live in Dallas, TX.


Arts and Culture in the Face of Mass Incarceration




Amber Sims is a founding member of The Imagining Freedom Institute, (The IF Institute), a thought leadership institute that works with organizations and institutions to build their capacity for internal and external equity and social justice work using historical analysis and equity frameworks. The IF Institute encourages organization to seek solutions rooted in our collective liberation and reimagining current systems and structures. The IF Institute is also home to Young Leaders, Strong City, the longest running racial equity platform for students in DFW.
Amber has worked in private, nonprofit and public sectors providing leadership in communications, equity, community partnership and authentic relationship cultivation and development. Amber is a trusted voice for racial equity and community change. Her methods of change center on the power of proximate leadership, historical context, layered with modern day impact, as well as individual reflection and acknowledgment in tandem with and collective people power. Amber has been published in the Washington Post, Dallas Morning News and Texas Monthly as an opinion columnist on issues such as closing education gaps, and an equitable Dallas for all. Amber also was featured in the Texas Rangers Magazine as an ongoing contributor. Amber is currently working on a publication chronicling the history of schools in Dallas in collaboration with the national nonprofit journalism entity, Press On and local newspaper, Dallas Free Press.


Jason Hernandez was sentenced to life without parole for a nonviolent drug offense in 1998 at the age of 21. While incarcerated Jason became a "jailhouse attorney" and began litigating on his behalf and others incarcerated. In 2011, he started a grass-roots organization in prison called Crack Open The Door, which advocated for nonviolent drug offenders serving life without parole. In 2011 Jason, on his own, sent a petition and letter to President Obama asking his sentenced be reduced. On December 19, 2013 Jason became one of the first to receive clemency from President Obama known as the "Obama 8." Since his release in 2015 Jason has assisted six other individuals serving life sentences receive clemency through President Obama and has advocated for criminal justice reform and has written for and featured in The Guardian, The New York Times, MSNBC, CNN and other major media outlets. Jason is also a recipient of a Latino Justice Fellowship, Soros Justice Fellowship and awarded the Volunteer of the Year in his City by two different organizations.
Jason has recently launched his own Leadership Initiative for Latino High School Students called ATLAST (Aspiring Texas Latinos Achieving Succeeding Together); He is working with the ACLU on a national campaign to have clemency utilized on a mass scale; And he recently released a book that teaches prisoners and families how to do clemency petitions called Get Clemency Now and he is currently working on his memoir which will be released through One World Publishing this Summer.

Richard Miles was born April 26, 1975 to Mr. Richard and Thelma Miles. At a very young age, Richard's mother re-married the now late, Bishop William Lloyd. Richard grew up in a close-knit family environment with two younger brothers, William and Emanuel and his older sister, Lashawnda. Richard attended the academically accepting Henry Wadsworth Academy, Skyline High School and Justin K. Kimball and graduated in 1993.
The summer of 1994, Richard was wrongly arrested and convicted of murder and attempted murder. Richard was 19 years old and lost 15 years in the Texas Department of Criminal Justice Institutional Division, fighting for his life, innocence and freedom. Richard's family advocated on his behalf and eventually met the now late, Mrs. Joyce Ann Brown, Founder of MASS and Exoneree. Mrs. Brown joined the fight for Richard's innocence eventually encouraged Centurion Ministries; the Princeton based innocence organization to accept his case.
While incarcerated, Richard excelled utilizing the limited resources available in prison. After losing his direct appeal, Richard sought education as his outlet and obtained an Associate Degree in Applied Science from Trinity Valley Community College along with multiple vocational certifications. In 2001, Richard was ordained as a minister by his father, the late Bishop William L. Lloyd. Richard would eventually begin a Bible study on Coffield with the support of his father's church. In 2007, 10 years after his initial letter to Centurion, the innocence organization accepted Richard's case pro bono. Richard was released October 12, 2009 on the grounds of prosecutorial misconduct, faulty scientific evidence and tainted identification. From 2009 to 2012, further investigation was conducted by the Conviction Integrity Unit lead by Attorney Mike Ware and Asst. District Attorney Russell Wilson. February 15, 2012, the Court of Criminal Appeals handed down a unanimous decision of Actual Innocence in the case of Ex Parte Richard Miles (359 SW 3rd 647), a 52 page opinion written by the Honorable Judge Barbara Hervey. The ruling allowed Richard to be eligible for compensation under Texas law for individuals that have been proven Actual Innocence. With these resources, Richard begin rebuilding his life after a 17 ½ year battle for his innocence. In June of 2012, Richard allocated a considerable amount of his compensation from the State of Texas to start the nonprofit, Miles of Freedom. "Miles" is an acronym for (Motivating Inspiring Law-abiding Enthusiastic Successful). Today the mission of Miles of Freedom has grown to provide holistic support for individuals, families and communities impacted by incarceration.
Since his release and exoneration, Richard has been blessed to travel the nation telling his story of hope, determination and faith but also addressing the issues of mass incarceration, wrongful convictions and the need for productive reentry services. Richard's journey and work has been highlighted with numerous awards, was featured in the book Tested, and many other literary materials. His story was also featured on TV One in the document series, Evidence of Innocence. In 2019, the journey of Richard Miles was shared on the international stage highlighting his accomplishments as one of the Top 10 CNN Hero's. Richard is currently enrolled in Paul Quinn College working towards his Bachelor in Business Administration. He also serves on the board of God's Holy Church of Christ, Dallas Sheriff Community Partnership and Power in Action.
Richard Miles life is now filled with his faith in God, family support, wife Latoya Miles and his beautiful daughter Raelyn Grace Miles. Richard's future seems to have many more "miles of freedom".

Sofia Bastidas Vivar works under the auspices of the Ignite/Arts Dallas initiative at SMU Meadows School of the Arts. She is conducting research with CultureBank, an initiative that places artists and their enterprises at the center of community investment strategies, and is working on two other major exhibitions and public art projects around affordable housing and the criminal justice system. She is the co-founder of the nomadic curatorial research program Port to Port and the data and research design company TVGOV, which recently participated in the 9th Berlin Biennale and received grants from the Andy Warhol Foundation for the Visual Arts and The Foundation for Contemporary Arts. As the current SMU Meadows curatorial fellow and Pollock Gallery director, Bastidas has curated diverse and dynamic programs from radio shows exploring the future of solar energy to creating co-working spaces for alternative forms of education. Her work focuses on supporting existing platforms that engage cultural discourses that catapult creative co-production, communication and sustainable forms of organizing. Bastidas holds a B.A. in art history and communications from Florida International University and an M.A. in sustainability and development from the SMU Lyle School of Engineering.


About the Imagining Freedom Institute


The Imagining Freedom (IF) Institute is a Dallas-based thought leadership group that works with organizations and institutions to build their capacity for internal and external equity and social justice work. Its goal is to help organizations develop racial equity frameworks, historical analysis and a strategic action plan through customized training and ongoing consultation. For more information, visit

https://www.theifinstitute.com/

.